! -- OCA Overview Page --> <! -- Rev 2.0, 10-2-96 -->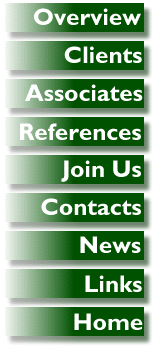 ---
Corporate Overview



O'Connell and Associates (OCA) was formed in September 1991 to provide business and program development services to firms, primarily defense contractors, needing short term project oriented consulting support. O'Connell and Associates incorporated in Virginia on September 30, 1993.
Until recently major defense corporations maintained extensive staffing and other dedicated resources for business and program development. Corporate downsizing in response to continuing reductions in defense spending as well as mergers and acquisitions have diluted the business and program development capabilities within these organizations. O'Connell and Associates focus is on filling that void.
The primary services provided by O'Connell and Associates can best be described as technical and management expertise focused on developing sound business strategies and implementing proposals to captured key opportunities in the Federal Government. There is a strong marketing flavor to these efforts and inherent in our responsibilities is the continuous need to assess potential and opportunities for our clients.
We have provided support to major clients in the training, modeling, and simulation business area. Our efforts included significant involvement in the strategy development, planning and proposal support for successful bids by Lockheed Martin Information Systems Company on the Advanced Distributed Simulation Technology II (ADST II) program and Loral Federal Systems (now Lockheed Martin) on the Warfighting Simulation 2000 (WARSIM 2000) programs. Earlier efforts focused on support for the Army's Combat Training Center (CTC) and CTC Instrumentation System (CTC-IS) development programs. Our expertise in this area included support for the development agency, the U.S. Army Training Support Command at Fort Monroe, Virginia. We supported the Hughes Technical Services Company team in their successful proposal effort to provide omnibus Operations and Maintenance support to the CTCs.
OCA has focused significant attention on the ongoing efforts to develop capabilities and exploit business opportunities in the Tidewater, Virginia area related to program and corporate growth in support of Joint training activities. In this regard, we recently completed efforts in support of Cubic Applications, Inc., the incumbent General Support Contractor at the Joint Warfighting Center (JWFC), in the recompete of that contract. We are currently supporting the Lockheed Martin team on the development of their proposal for the Joint Simulation System (JSIMS) program.
The JWFC General Support Contract has a major bearing on the modeling, simulation, and training support to be provided globally to the geographical warfighting Commanders-in-Chief of our Armed Forces. The JSIMS contract will develop the core simulation services, processes, and interfaces required to support and sustain the application of constructive simulation models in support of defined and emerging Joint and Service-specific training needs. Subsequent applications of the advanced technologies, software architectures, domain and database engineering and applications will migrate to support operational requirements for mission rehearsal analytical requirements throughout the Department of Defense.
The OCA strategy for improving our position in this niche market is based on a strong commitment to our clients and the capability to provide the highest quality support and services at an affordable price. Quality is maintained through the personnel selection process and by ensuring a high degree of hands-on management of every project - large or small. Responses from customers indicate that our services and products are well received and we enjoy an excellent reputation with our clients and others in the modeling and simulation business area. Continuing inquiries from prospective customers suggest that there is considerable demand for the services we offer.
To request more information about O'Connell and Associates services, click here.
---

Please send compliments or comments to webmaster@oc-associates.com
Corporate Overview | Our Clients | Key Associates | Check Our References

Join The Team | How to Contact Us | News and Press Releases

Relevant Links | Please Sign Our Guestbook




Return to O'Connell and Associates Home Page
---
© 1996 - 2002 O'Connell and Associates. All Rights Reserved.