! -- OCA Addguest Page --> <! -- Rev 1.0, 10-1-96 -->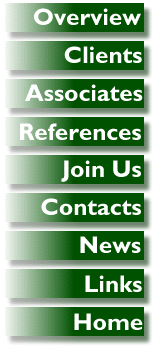 ---
Add to Our Guestbook


Thanks for visiting the O'Connell and Associates web site. We hope that you enjoyed your visit.
Please take this time to add to our web site Guestbook. We sure appreciate your comments and thanks again for visiting!
Fill in the blanks below to add to our guestbook. The only blanks that you have to fill in are the comments and name section. Thanks!
---

Please send compliments or comments to webmaster@oc-associates.com
Corporate Overview | Our Clients | Key Associates | Check Our References

Join The Team | How to Contact Us | News and Press Releases

Relevant Links | Please Sign Our Guestbook




Return to O'Connell and Associates Home Page
---
© 1996 - 2002 O'Connell and Associates. All Rights Reserved.